We create high-quality 
cut vinyl decals for freelancers and creative people.
Get noticed in a loud, busy digital world by turning your laptop into your personal billboard. Brand yourself, stand out and connect with new customers, partners and friends. 
Get relevant, personal & local offline marketing for the price of breakfast.  


"Freelancer At Work is the perfect partner to make yourself recognizable wherever you want! Just get a decal, place it on top of your laptop, tablet or planner, and let the world know about your business. Thanks to Freelancer At Work I've shown thousands of people what I do on trains, planes and coffee shop. Plus, my macbook looks amazing with the sticker on it!"
Translator, copywriter & journalist | Bologna (Italy)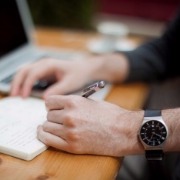 "The Freelancer at Work project is simply amazing and unique. Since I sticked it on my laptop people haven't stopped asking me about the work I most love to do: translation. 
A wonderful opportunity to tell them what it means to work in this business and a better opportunity to let them know how they could improve their businesses with your services. [Read full review here]



Marie-Claire Cruz



Translator & Interpreter | Las Palmas, Spain